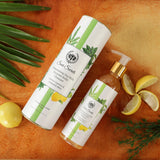 Smoky Rose Geranium Hydrating Soy Milk Enzyme Body Cleanser, 200ml

Delivery: Products are usually delivered in 2-4 days.
Offers: 10% Off on orders above Rs.999. Code: SEER10
Offers: 20% Off on orders above Rs.1499. Code: SEER20
Indulge into the aroma of a thousand roses with this beautiful bath time indulgence. With a smoky rose geranium fragrance, this hydrating soy milk enzyme body cleanser helps create a sense of hydration and protecting the skin from wrinkles and sun burns. With a refreshing scent, the formula is infused with geranium essential oil and extract of rose, amla&reetha which provides the essence of hydration in a blissful relaxing effect of aromatherapy in your shower. Smoky & rosy notes in a formula infused with soy milk proteins and coconut derivatives stimulate your mind and spirit in a blissful shower experience.
— BENEFITS —
Serves as a detoxifying agent.

Helps in protecting skin infections.

Gently repairs skin burns
— HOW TO USE —
Pour a coin-sized amount of the body wash on your hand or loofah

Gently rub it on your wet body, working into a lather

Rinse off with water and towel dry
— Who is it for? —
Men and women of all age groups.
Those struggling with dead skin cells, dullness and roughness.
Suitable for all skin types
— Complete list of ingredients —
Market Analysis
— DISCLAIMER —
Even natural ingredients can cause and trigger existing allergies. A patch test is recommended.
In case of any rashes or allergy, please consult a specialist.
All images shown are for illustration purpose only, actual results may vary.
For external use only. Store in a cool & dry place.
— FAQ's —
FAQ
These Seeds are Raw or Roasted?

These Seeds are Raw or Roasted?

Can I Roast Them?

Yes, it can be enjoyed as a raw or roasted
for quick crunchy & munchy snack as per your preferences and convenience.

Are they peeled?

unroasted, and deshelled to help you reap the health benefits of pumpkin seeds without any extra efforts.

How many days do you take to deliver the orders?

We take 3-4 business days to deliver
normally, from the day of placing the order.

How can I track my order?

After placing the order, you will get an Order ID with which you can track the status of the order on our website. Once the order is shipped, we will provide you with a tracking link so that you can track the movement of your order.

How can I return a product?

Please note that the return and refund policies are different for each product.