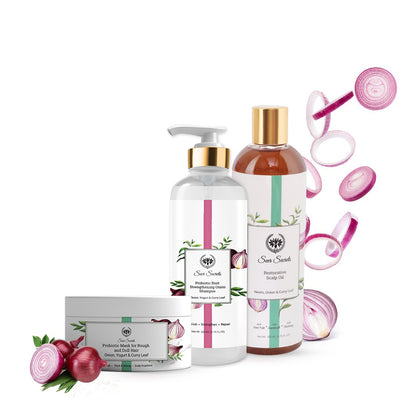 Onion Range
The presence of antioxidants in our Onion Haircare Range may help 
reversing premature greying of hair
. A good use of our range can help increase blood circulation, further helping in hair growth. Its antibacterial properties might help keep your scalp away from infections, further promoting healthy hair growth. The sulfur from onions may also help promote collagen production. Collagen in turn helps the production of healthy skin cells and hair growth.
Onion Hair Oil - For Hairfall Control, 200ml
Stress, pollution and unhealthy lifestyle choices can lead to many hair troubles - hair fall being the most common one. Seer Secrets Restorative Scalp Onion Oil helps you combat this problem. Onion Oil, rich in Sulphur, Potassium and antioxidants, reduces...
Probiotic Onion Serum Onion Extract & Biotin, 100ml
Good hair days are here with Seer Secrets probiotic onion hair serum. It's time to trust the goodness of onion – an age-old home remedy to address hair issues like frizz, breakage, and hair fall. Use this for hair so...
Probiotic Mask for Rough & Dull Hair, 200gm
Seer Secrets onion hair mask works on the roots to strengthen your hair, reduce hair fall, and promote overall hair & scalp health. Onion oil present in the Hair mask replenishes the scalp, restoring nutrients lost due to exposure to...